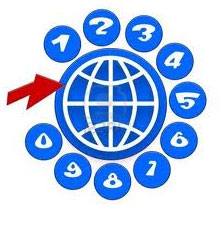 The world has become far more connected than ever before, and this has been a huge benefit to business communication in particular. The cost of getting information and data from one point to another anywhere on the globe has plummeted dramatically, and the speed with which this is normally done has increased sharply, as well. (A simple VOIP test should be able to tell you whether or not your connection is speedy enough to handle most of these modern business accoutrements.) With that said, there are a number of different items that any modern business should have in order to stay competitive in the 21st century digital environment:

Cloud storage. In a nutshell, this is simply the process of saving important files to a remote server instead of a local hard drive. If a computer gets lost or stolen, for example, files saved to a virtual hard drive/server (i.e. "the cloud") will still be easily retrievable for anyone with the right passwords and an internet connection. You can either set up accounts with free or low-cost cloud storage providers for your business, or you can purchase the services of an off-site provider that can remotely and automatically back up the files on each hard drive on your network on a regular basis. If a crisis hits, it's nice to know that your work is safe.
Virtual faxing. There are a number of paperless fax systems out there today that are delightfully inexpensive and easy to use. Rather than a traditional fax machine, you can simply scan in a relevant document, upload it to the virtual fax server, and have it sent to any fax number worldwide. You can also receive all of your traditional faxes this way as well; you will be alerted whenever you have a new fax by email. No more checking of the fax machine!
A VOIP telephone system is an excellent, inexpensive way to keep up with clients and vendors worldwide at a fraction of a traditional landline's cost. A human voice on the end of a phone can provide a lot of comfort and information to a customer that an automated recording cannot, but again – you should first perform a VOIP test in order to make sure that your internet connection is reliable and speedy enough to handle the traffic. Once your VOIP test lets you know that your system is good to go in this endeavor, go ahead and set up a virtual phone system through one of the many inexpensive and excellent providers today, such as Skype, Ooma, or Vonage.
Implementing any or all of these extremely reliable and low-cost virtual services can potentially save a significant amount of money. Check them out!
Comments
comments