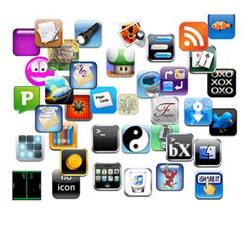 Apple's iPhone is a wonderful tool that is much more than just a phone. Thanks to many great apps you can download to it, you can keep yourself organized, productive, entertained and even educated. If you are a psychology student, there are certain helpful apps that you should have on your iPhone so that you can brush up on your skills at any time, no matter where you are. These are a must if you are studying psychology and will keep you sharp if you have to study for an exam or if you simply want to test your own knowledge.
Psych 101
Psych 101 is $9.99 on the iTunes App Store and is a great tool to have if you are a psychology student or even if you are already in the field as a professional psychologist or psychiatrist. It will keep you up to date about mental health and can provide you with all of the necessary terminology, definitions and a database of various psychological and mental disorders. There is even a great template feature that allows you to test yourself by making a diagnosis of a condition based on its symptoms.
PsychGuide
PsychGuide is free to download and comes with all of the pertinent information you need regarding the psychology field. There is essentially everything within the app from early psychology education up to information that is taught to graduate students. There are different facets of psychology discussed in PsychGuide, such as psychology in criminal behavior, various research methods and statistics, techniques that can help you to study and improve your grades and more.
Psychological Terms
Psychological Terms costs $2.99 on the App Store and is a great app to have at your fingertips on your iPhone if you are a psychology student. Essentially, it is a glossary of psychological terms that are related to the subject of psychology. You will find it useful while on the go so that you can brush up on certain terminology. It is especially good to have if you are studying for an important exam or preparing a term paper.
Psychology Handbook
Psychology Handbook is 99 cents and is a great app for any psychology students as well as professional psychologists who want to stay on top of their chosen profession while on the go. With the app, you can quickly browse various topics that are arranged in a specific category. Topics that are covered include methods of psychology, educational psychology, clinical psychology and more. You can bookmark certain topics of interest that you want to have easy and quick access to, which is very convenient.
Psychology Quiz
Psychology Quiz is an app that is 99 cents and is helpful if you need to test yourself on your knowledge of the extensive subject of psychology. It is the perfect tool for preparing for a test at school. You can clearly see which areas you need to pay closer attention to and those where you excel. There are more than 150 questions that are divided in various categories you can choose. After taking a quiz, you will be scored and can see which answers you got right and which you got wrong.
With all of these top apps in the psychology field, you will excel in your major course of study. You will find that your brain has grown sharper and your grades will soar.
Comments
comments