Lotus Notes is an email application by IBM and on the other hand, Outlook is a product by Microsoft. It is true that Notes is enough complex as compared to MS Outlook. And this is the main reason for a user to switch to MS Outlook and they want to access Lotus Notes via Outlook as it is an easy email client with too many features. There are many individuals across the world that are using Notes as their primary email client. So they must have a bulk of emails which they want to move to Outlook in a simple way. In this article, we will resolve the issues regarding, "Can you access Lotus Notes from Outlook?" by the following solutions.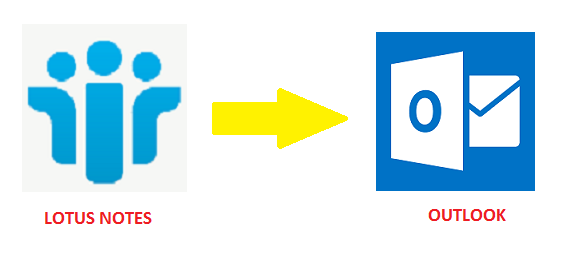 To open Lotus Notes in Outlook, it is required to know about the basic file formats that are supported by these two different email clients.
Lotus Notes: The archive files or NSF (also known as Notes Storage File) is supported by IBM Lotus Notes. It is a database file which is used to store emails, journals, events, calendars, etc. But there are a number of NSF files that include such data items.
Outlook: If it comes to Microsoft Outlook, it stores the emails and other items in PST file format. It is a Personal Storage Table file which is used to store all the data items like emails, calendars, notes, journals, etc in a proper and organized way.
Reasons to Read Lotus Email in Outlook
There are many reasons that one want to open Lotus Notes through Outlook. Some are:
Technical Knowledge: For a non-technical user, it is difficult to use Lotus Notes due to its complex interface and functionalities. But if we talk about Outlook, there is no requirement of any technical assistance.
Multiple Account access: Lotus Notes does not allow a user to access multiple email accounts in Notes at the same time. But he can access multiple accounts in Outlook.
Interface: The User Interface of the MS Outlook email client is easy as compared to Lotus Notes. It is an easy task for any beginner to access and use that application. A user can access Lotus Notes via Outlook also.
Maintenance cost: The purchasing and maintenance cost of Outlook is very less as compared to Notes. There are some inbuilt utilities that can easily repair corrupted PST files in Outlook.
Access by Smart Devices: It is easy to access emails in Outlook in smart devices like Mobile phones, tabs, etc. As Lotus Notes is a desktop application which can only be accessed from the system. With the help of Outlook email application, a user can also view Lotus Notes email in Outlook.
Method to Access Lotus Notes Mail from Outlook
You can read Lotus Notes mail in Outlook 2010/ 13 by the following a two-step process as discussed:
Export Lotus Notes NSF file
First, you need to create a backup of NSF file on your local disk to reduce the chances of corruption of file at the time of Import process and to access Lotus Notes via Outlook easily.
Now open IBM Notes application and NSF database file which you want to migrate.
Click on File >> Export in the email client.
Select the desired location and save the file in Comma Separated Values file format.
Rename the NSF file and click on Export button. Now you can process to next step to move Lotus Notes database to Outlook.
Read Lotus Notes File through Outlook
Open Microsoft Outlook application.
Click on File >> Import.
Select Import from another program or file. Then click on Next button.
Select CSV(Comma Separated Value) option. Now browse the location where you have saved your NSF file. Check the Replace Duplicates option.
Select the folder at the destination location where you want to import the data of the NSF file in Outlook and click on Next button.
Then end the process, click on Finish button.
Drawbacks of Manual Approach
For non-technical users, getting their data and access Lotus Notes via Outlook directly or by a manual method is a difficult task. If any user is moving and reading multiple files with a huge amount of data, then there is a possibility that he might lose his data by above manual approach. If the NSF database file is corrupted and inaccessible to the user, then also Outlook email application won't allow a user to open Lotus Notes emails in Outlook.
Expertise Solution
Safety of the data is the first priority of any user. Above discussed method in little complex and lengthy for a non-technical user. You can go for an automated solution through which you can easily access Lotus Notes mail from Outlook in a simple way. The application is quite easy because of its user-friendly interface. Any non-technical person can run and use this tool. It is a hassle free solution for all the users who are looking for the best solution to access Lotus Notes via Outlook.
Conclusion
In this article, we have discussed the entire relevant information the details of NSF files in Lotus Notes and PST in Outlook, reasons for the migration and manual procedure to access Lotus Notes via Outlook. One can follow above steps to migrate Lotus Notes emails to PST easily. It is easy and simple to move the complete data with the help of a third-party solution without any data loss.
Comments
comments