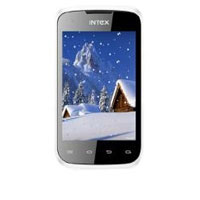 Just when you thought the dual SIM card phase couldn't possibly last, you hear news of another smartphone with a dual SIM card option. Intex, the company in question already has many phones of this very nature in its existing product lineup so this news is not too surprising. Intex is a forerunner in electronics, IT peripherals and phones and has been around for over fifteen years.
The new phone called the Intex Aqua 4.0 is a smartphone with dual SIM and runs on Android Ginger Bread, the 2.3 version of the operating system. Its CPU is not great, just about 800 MHz but given its OS, this technology is understandable. The phone has 131 MB of built in memory and an expandable memory of up to 32 GB in the form of a microSD card. The RAM is 256 MB and the battery, at 1400 mAh is adequate, if not great.
Here are few other details that you might like the sound of. The touch screen dimensions are 320X480, sports 262K colors and it measures 3.5 inches. There are two cameras, a front facing camera of .3 mps and a main camera at 3 megapixels which allows for video recording. The cameras also boast of up to 4X digital zoom. The phone comes with Bluetooth, Wi-Fi and 3G. Apart from the memory card slot, you will also see the audio jack at 3.5 mm. There's FM radio for your listening pleasure.
The phone comes loaded with very cool games like Fruit Ninja, the ever-popular Angry Birds and Talking Tom. You can keep in touch with all your social media requirements because there are built in apps for Facebook. Apart from this, there are other apps like India Rail for all your travel needs, Skype to keep in touch with everyone- we did see that the phone has two cameras-, YouTube for entertainment, Flipkart for all your retail therapy and Nimbuzz, the messenger and VOIP service so you're always in touch, even while on the move.


The Intex Aqua 4.0 has proximity sensor which is a useful thing, seeing how things can go a bit haywire when you're talking on a touch phone. Proximity sensors also help save battery life by turning off display light while on call. Apart from this, we can expect less interference and better navigation. There is an inbuilt accelerometer, like in the case of touch phones for portrait or landscape orientation and a sensor for ambient light sensor as well to adjust, automatically, brightness of the screen, which makes for better battery life.
The phone, set to launch in October, is reasonably priced and comes in standard black or white. It looks all set to give the Samsung Galaxy Y Duos a run for its money. The Galaxy 5 is a phone that comes in the same marketing space and both have almost similar features, with the Intex having a slight advantage over the other.
The puzzling factor is the name, to be honest. Why call a phone the Intex Aqua 4.0 when neither its OS (2.3.5) nor even its screen size (3.5 inches) is anything like it? Perhaps the company hopes that once customers use the phone, they will all agree that is capable of giving a more advanced phone, a run for its money. One can only hope.
Comments
comments