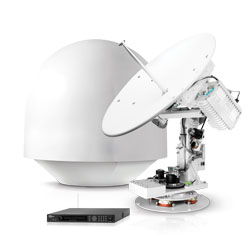 In today's world, the Internet plays a critical role in the way businesses operate. That's why it's crucial to have reliable Internet service to gain an edge over the competition. There are many options available for satellite Internet service in remote areas today. It may be tempting to choose a consumer-grade satellite Internet provider because it will cost less. But do your business and yourself a favor by choosing a provider that gives you business-grade equipment and service.
What does the term "business-grade" really mean and how is it different from what consumers get?
Business-grade is just like it sounds-it's made for doing business. Businesses have unique needs for speed, security, and customization. Consumer-grade satellite Internet providers tend to have a one-size-fits-all plan, which works fine for consumers, but not for businesses.
Here are some reasons why business-grade satellite Internet equipment is better than consumer-grade
Let's begin with speed. Today's applications like video streaming and conferencing require a high speed, low latency connection to work properly. Many consumer-grade companies try to sell their service to businesses, but they can only offer data transmission speeds "up to" a certain amount. A business-grade provider guarantees a Committed Information Rate (CIR) for the speed you need and the consistent downloading and uploading you want. A reputable provider also doesn't oversubscribe their network, which can slow things down. What all of this means to you is with business-grade Internet equipment, you'll spend less time waiting around and more time being productive.
Bigger is better. Business-grade satellite Internet equipment includes larger, more powerful dishes. They are typically 1.2m and 1.8m in size and the larger surface area provides better coverage and reception. This means that if you live or work in a remote area you can get reliable broadband service virtually anywhere. Because unlike land-based communications networks that are susceptible to infrastructure failures or are unable to go into remote locations, satellite service reaches virtually everywhere in the world.
Rugged equipment. From the antennas and dishes at the providers location to the modems at customer locations, business-grade satellite Internet equipment is specifically designed and engineered to be more durable allowing it to stand up to the demands of a working environment.
Customizable. Unlike consumer-grade providers that only offer one option that all of their customers have to live with, business-grade satellite Internet providers can create customized plans to meet the specific business needs of their customers. Business-grade satellite Internet equipment provides all you need to run your business–you can also email, fax, and even make a phone call using VoIP (voice over Internet protocol)—all at the same time.
Business-grade satellite Internet provides mobile and portable solutions that enable you to take the Internet with you anywhere you go. If needed, many options can be towed behind a vehicle or can be shipped to a location via common carrier and set up under 10 minutes for a reliable hot spot virtually anywhere. That's not something you can do with consumer-grade equipment.
Reliability. How long could your business go without Internet access? If you are relying on a land-based communication system, it can go down when the local infrastructure fails. Then what do you do? Take a lesson from Super Storm Sandy. In some areas in the east, it took a month for utilities and communications to be re-established. With business-grade satellite Internet equipment and service, you can stay connected to customers and the world around you despite weather or man-made disasters.
Now that you know why business-grade satellite Internet equipment is better than consumer-grade, here is what to look for in a business-grade satellite Internet provider:
Begin by asking about their infrastructure. Just like the business-grade equipment that's being used, a customer's location or out in the field, all of the components in their infrastructure should be business-grade.
Make sure they will be there when you need them. Find a provider that offers 24/7 live customer service so if an issue ever arises, they are there to help you work it out. It is also suggested that you ask about where their customer service is coming from. Ideally, the company should provide in-house tech support and their personnel should be well-trained in all of the components of their equipment.
If security is an issue for you, be sure the provider offers secure VPNs (virtual private networks) and Private IP (Internet protocol) networks that provide the highest level of security. Ask about their network operations center (NOC) and what security measures are in place to protect your information.
When buying equipment that you are going to use for business, it is important for you to go beyond the price tag. Like the old adage says, "You get what you pay for." Consumer-grade equipment may be less expensive, but you might find that it cannot meet the demands of your business. Therefore, you would have spent money on something that you will not use and fully maximize.
Comments
comments