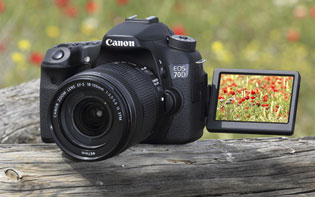 Canon has always been a favorite in photographers' society and photography enthusiasts. A photographer is said to be seeing everything through his/her camera lenses, even when not holding a camera, they imagine things through the viewfinder. And Canon exactly knows and so they come up with products to suit the photographers' needs. Canon is a very popular DSLR brand and their main rival for now is Nikon; however, Canon's new addition to their mid-professional range is the new 70D. Here, we come up with a brief review to give you an idea. Go through and decide if you would buy Canon 70D!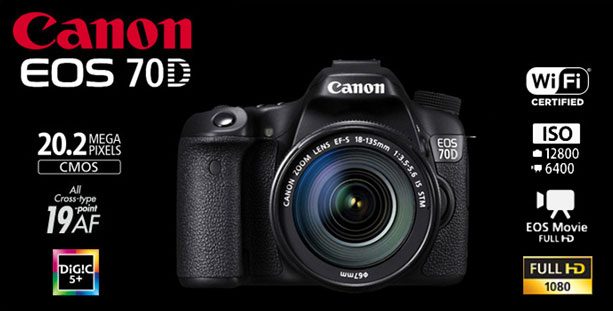 Intro to the 70D!
It's been long since Canon brought their 60D in the market (back in 2010, really a long time) and now the 70D is here to replace its predecessor. This camera is targeted towards the enthusiast group are beyond hobbyist photographers, know the photography basics and want to take their expertise further but not prepared enough to buy the full frame cameras, or maybe they don't need a full frame camera, yet a good performer.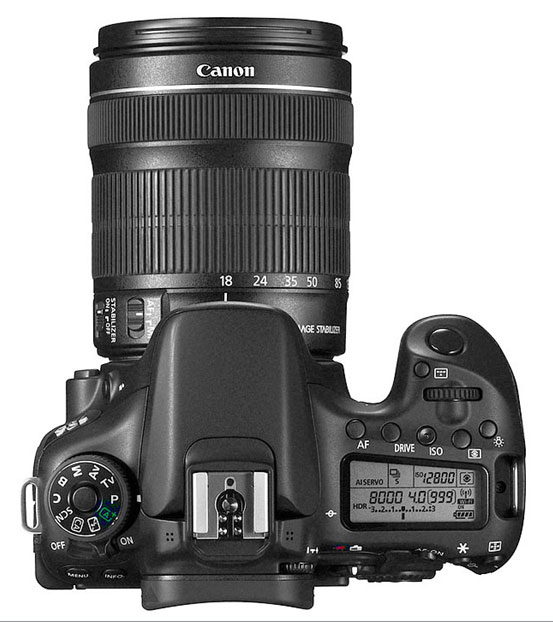 This camera comes with a blend of advanced and creative automatic modes like the 60D, but the sensor quality and autofocusing technology has improved like miracle and that changed the game of photography and cinematography. This camera is truly a game changer! Let's find out why.
What makes it a game changer?


Canon made many changes into the specification lines, for example if you start from the very beginning; the mid-professional camera range used to have a 18 megapixel CMOS sensor for the last few years, but this camera now has a APS-C size 20.2 megapixel CMOS sensor. Not much of a change, but this changes the scenario. We can expect the next cameras in the same range to have a sensor of this size.
And another change is the image processor. 60D had DIGIC IV image processor and 70D is equipped with DIGIC 5+ processor. Not an entirely new processor, Canon has used this processor before on its entry level series 650D, 700D and 100D cameras and now on the new 60D. What's new in this body is a 7 fps shooting speed which enables you to capture a consecutive row of 16 RAW photos or 65 JPEG files. It's pretty much obvious now that you won't miss any moments from your son's football match now.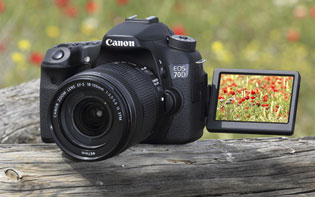 Even if you got a dimly lit birthday party or maybe a date, you don't have to worry anything about it. You can capture great low light photos without even firing the flash. The wide ISO range of 100-25600 now makes it possible to produce quality photos without much trouble. Noise is not an issue until ISO 12,800 which you will not even have to use most of the times.
The dual pixel CMOS sensor is the true element in changing the game. You won't find anything out of focus from now on – the focus is superfast as well; even in live view mode. And now you can easily replace your camcorder as this new technology improves the video focus as well.
Also, the AF points are now increased to 19 instead of 9. You don't need anything more in this price range. Canon included built in Wi-Fi in this model which was previously included in the Canon 6D full frame Digital SLR.
Buy Canon 70D
It's already available in market and if you are willing to buy canon dslr camera then Canon 70D will cost you around US$ 1,830. And Canon decreased the street price of Canon 60D DSLR camera as well. Now you can buy a 60D at only US$ 499, without lenses. This price is only for the body but it still is much less than the price before. Canon 60D is still an awesome camera undoubtedly; it might be a good start for you. Happy clicking!
Comments
comments