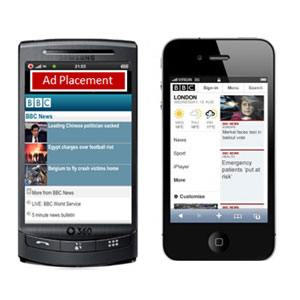 Whilst apps are ingenious creations, they are not free of problems. Some apps can be particularly difficult to download and use up a great deal of storage space on your mobile. However, there is an alternative solution that will not clog up a smartphone's memory and does not require the convenience of a Wi-Fi hotspot to download – mobile websites.
Mobile websites are becoming increasingly popular within the world of mobile internet and provide a refreshing alternative to apps. With a rising demand for mobile websites, free website builder tools are also rising in prominence as mobile sites become more sophisticated.
Take a look at five of the best looking sites designed for mobile devices:
eReader (www.ereader.com)
By enabling users to store and manage various documents including ebooks, this site is a great way of transforming your smartphone into a convenient source to read all your favourite books. The eReader mobile website is stylish to look at, easy to navigate and features a 'night-time' setting which enables users to read in dimly lit conditions with a night light.
Similar to how the Kindle provides the convenience of being able to read literally hundreds of books without having to physically carry them around with you, the eReader site is particularly useful for reading multiple books from one convenient location.
BBC News (www.bbc.co.uk/news)
When it comes to great looking sites designed for mobile devices then BBC news is certainly worth a mention. Unlike many news sites designed for mobile devices, BBC News has an easy to navigate layout, which includes several of the BBC's main headlines. Reading the news whilst on the go has never been so easy and this is a website that has clearly done its homework on what people want to see.
Flickr (www.flickr.com)
If you are fanatical about sharing photos with friends and family like millions of other smartphone users, then make sure you bookmark the Flickr mobile website. Possessing a simple design, Flickr's mobile site enables users to easily search and share photos, view comments and leave your own comments, meaning you can carry your own convenient photo album around with you in your pocket.
YouTube (www.youtube.com)
Whilst the famous video-sharing site has its own smartphone app, its mobile website offers a much more dynamic and enjoyable experience for mobile viewing; bringing all the magic of desktop YouTube to your smartphone.
Restaurant Row (www.restaurantrow.com)
If you areon a night out and need to find a great restaurant, then the Restaurant Row site for mobile devices is a fantastic way to find excellent places to eat.
This stylish looking website enables users to choose from more than a dozen or so different types of food and provides you with a list of nearby restaurants within these different food genres, ultimately bringing you tasty cuisine at your fingertips!
Comments
comments