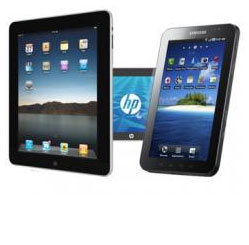 Tablets are now becoming more of a need for business professionals than a luxury, especially now that people deal more and more with digital information. These tablets allow users to do important functions that would normally be done on a desktop or a laptop such as browsing websites, accessing emails, making documents or preparing Powerpoint presentations among others. These tablets can also be installed with third-party applications that increase their user's productivity. With this in mind, here are five of the best business tablets designed with mobility in mind.
Apple iPad 3:
When it comes to tablets, the first thing that usually comes to mind is Apple's iPad. This tablet, which first took the world by storm in 2010, is the most popular and is rightfully so because of Apple's impressive hardware and software.
The iPad's impressive quad-core graphic processor and immaculate screen is what draws most users to the Apple device. The 5-megapixel rear camera and 1080p recording quality are only a few of the new and improved features compared to the last generation's iPad. With faster graphics, 4G connectivity and a high-resolution display, this tablet is sure to please.
BlackBerry PlayBook:
Among all modern tablets, the BlackBerry PlayBook is the only one with extreme focus on addressing the needs of businesspeople. This holds true even with the BlackBerry smartphones, which have always been the number one choice for business-minded individuals.
In a business point of view, what makes the BlackBerry PlayBook standout from other similar tablets aside from its impressive hardware is its features which include corporate email systems, improved security and encryption, as well as its Bluetooth tethering technology. Emails read through the PlayBook are actually stored on the linked BlackBerry smartphone. This is important because there is no security breach associated with stolen PlayBooks, especially when the data in question is very sensitive to the business.
In addition to its email security features, PlayBook users can download apps from both the BlackBerry App World as well as the Google Play Store. This ensures that the users can have the best of both worlds to meet all their needs. Many BlackBerry PlayBook reviews on the Internet highlight this very important feature in the PlayBook tablet.
Google Nexus 7:
The Google Nexus 7 is Google's flagship tablet at present and as such, enjoys the privilege of being one of the first devices to be updated with the next Google updates that will come in the future. It is one of the most popular devices to run the Google Android operating system.
Although it has some of the best hardware specs among recent tablets made available, it lacks GSM capabilities—but that hasn't taken away from its appeal. Its quad-core Tegra 3 processor offers fast performance and reliable functions.
Amazon Kindle Fire:
The Amazon Kindle Fire is one of the best bang-for-the-buck tablets today. It is chalked full of features not only hardware-wise but also in its software and because it is designed as a book reader, it serves as the perfect device to read important books or business documents.
This e-reader was highly anticipated and engineers slaved away for months developing this tablet. As compared to the previous Kindle model, readers are going to be impressed with the improved features.
Samsung Galaxy Tab 10.1:
The Samsung Galaxy Tab, much like the Samsung Galaxy S smartphones, are touted as Samsung's answer to the iOS devices. Amazingly, the Samsung Galaxy series of devices, including its tablets, have proven to be the strongest competitors to the iPhone and the iPad. Their rivalry has grown so much to the point of both companies attacking each other with lawsuits and Samsung suffering a $1 billion dollar loss to Apple. Many geeks and industry heads believe that Apple's bullying tactics are a result of Samsung's threat to their devices.
The Galaxy Tab 10.1 will surely give the iPad 3 a run for its money, boasting the latest Android 3.1 Honeycomb OS, which makes the tablet run Adobe Flash.
There are more Android-powered devices in this lineup because Google's mobile operating system is licensed to multiple manufacturers, unlike BlackBerry or Apple's operating systems. So how do you choose between the three platforms? It really boils down to personal preference in terms of design and setup. Apple's iOS platform offers a more controlled setup and is better protected from bugs. Android tablets offer users more flexibility and options in all spectrums. However, business professionals may find the BlackBerry OS to fit with native inbox, heightened security features and real multitasking. The best way to find the right tablet is to test out both platforms to determine which will offer the most benefits to your business needs.
Comments
comments