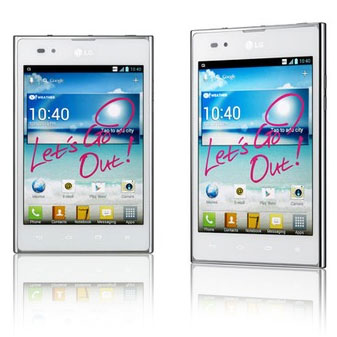 South Korean tech giant LG Electronics recently gave the class of "Phablets" another member, namely, the Optimus Vu. It was Dell that first gave rise to this category of touch-based mobile devices with its Streak 5. Since then other companies have come up with their own models of phablets, notably Samsung's Galaxy Note. LG's Optimus Vu will be fighting it out with the other Korean giant Samsung on this one.
Due to the timing of the release, LG's Optimus Vu will have to face some stiff competition from Samsung who only recently came out with the Galaxy Note II, an improvement on the original Galaxy Note. Nonetheless Optimus Vu does pack is some great features in its super slim chassis.
The Optimus Vu has a screen resolution of 1024×768 pixels. It features a 5-inch IPS (in-plane switching) display with an aspect ratio of 4:3. As compared to the Galaxy Note II's 1280×720 pixels, Optimus Vu's screen resolution may be lower but it does show great colors and the display looks clear from all angles.
The Optimus Vu is much slimmer than its counterparts at a mere 8.5mm. But despite its thinness, it comes across as much larger than it really is due to its rather block-like design. Nonetheless it fits comfortably in the hand and feels great to hold thanks to its faux leather finish, much better than the Galaxy Note II's plastic covering.
The Optimus Vu features an 8 megapixel rear facing camera. It has a battery of 2080 mAh, which is smaller than the one in the Galaxy Note II (3100 mAh). The Optimus Vu's battery cannot be removed by the user but getting it changed or repaired by a professional shouldn't be a problem. The phablet has a 32GB internal storage capacity but also has a microSD card slot that can be used to expand the memory of the device.
The phablet boasts some powerful specs when it comes down to its processing power. It has a 1.5 GHz NVIDIA Tegra 3 quad-core central processing unit along with a 1GB RAM. Although the Galaxy Note II seems to have much more hardcore processing power going on with an Exynos chip and a whopping 2GB RAM, the important thing is that the hardware should be perfectly tuned with the software and Optimus Vu offers just that.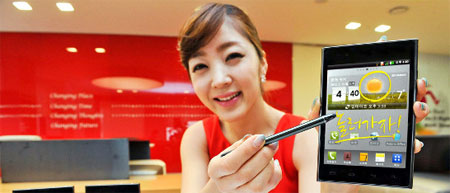 LG is advertising the Optimus Vu as an advanced note-taking device. For this reason, the Optimus Vu phablets come along with a rubber-tipped stylus for efficient use of productivity apps like Notebook and QuickMemo and to complement its Android operating system. But surprisingly, LG hasn't given the Optimus Vu a built-in silo for the stylus and instead given the stylus a pen-like clip.
The term phablet is informally used for touch based devices with display sizes falling between 5 and 7 inches. They combine the functionality of a smartphone and a tablet and thus, have proved to be quite popular among consumers. They also have an optional stylus, a feature popular among those who use their devices for extensive note-taking.
The Optimus Vu will be running on the older version of the Android OS, Ice Cream Sandwich. But LG has plans to release a Jelly Bean update shortly. This update will enable the device to then run services like Google Now.
Comments
comments