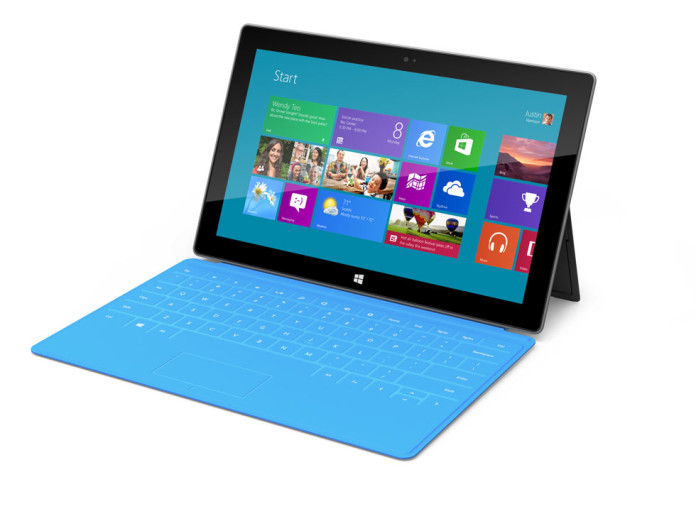 Technology surely evolves at a rapid pace. Take Microsoft's case: When Windows 7 launched a few years ago, everyone thought that the company had reached a new threshold of advancement. Now, however, with the release of Windows 8 and Windows RT we can see that Microsoft has barely scratched the "surface". Yes – the allusion is towards Microsoft's all-new Surface tablet computer; a quick hands-on summary of the base model ensues:
Key Specifications
10.6-inch HD touchscreen, 1366 by 768-pixel resolution
NVIDIA Tegra 3 (quad-core) processor, 2GB RAM
32GB internal storage, expandable up to 64GB
Windows RT operating system
Dual 720-pixel (front and rear) cameras
Regular-size USB (2.0) port
Customized touch and type keyboards [chargeable]
Look and Design
The Surface certainly aces the design department albeit with a little more heft than desired. The exterior is composed of a special magnesium alloy known as VaporMg that imparts superior durability to the device. The Surface showcases delicate curves and a premium finish that are enhanced by a fingerprint-resistant sheathing as also the beautiful dark titanium color scheme. The sturdily built chassis measures a compact 10.81 by 6.77 by 0.37 inches (length, width, and thickness) but the 1.5-pound weight may – as compared to current rival tablets – hinder user comfort and portability.
The 10.6-inch screen has a 1366 by 768-pixel high definition resolution and boasts extra features like a ClearType display with anti-refraction capability, a 16:9 widescreen viewing configuration, and 5-mode multi-touch functionality. All this generates vivid colors, sharp detailing, commendable perception angles, and decidedly smooth touch operations.
A specially constructed kickstand is a welcome exterior facet; this kickstand slides out the hind portion (and seamlessly slides back) and props up the tablet to facilitate video viewing and auxiliary keyboard use. In spite of being compact, the tablet embeds other enviable functionalists like 2 cameras with 720-pixel configurations, a full-sized USB (2.0) port, a keyboard connector, dual speakers, dual microphones, a micro SD card slot, a HD video-out port, and a micro HDMI port besides controls for power and volume.
The Surface may be accessorized with 2 auxiliary keyboards to supplement its operations. You may opt for either the Touch keyboard (with flat, touch-receptive keys) or the Type keyboard (with raised physical keys) paying a little over USD 100 for each. Both keyboards are easily tethered to the chassis and sport fully functional keys thereby significantly boosting practicality.
Interior Features
The Surface ships with a NVIDIA Tegra 3 (quad-core) processor that, when considered with the inbuilt 2GB RAM, results in a fairly speedy tablet with good parallel processing faculties.
The gadget runs on the Windows RT operating system that boasts tablet-centric controls such as the Metro home screen and exceedingly fluid application deployment.
You also get Microsoft Office Home and Student 2013 (preview edition that can be upgraded to the full version) and other accompaniments like Windows Mail, SkyDrive, Internet Explorer 10, the Xbox suite, and Windows Store access. One does, however, miss the plethora of apps offered by competing tablets.
For optimal multimedia and gaming performance, the tablet packs in an ambient light sensor, an accelerometer with gyroscope, and a compass.
The Surface comes with 32GB of internal memory; a further 64GB can be added via the included card slot.
Wi-Fi and Bluetooth 4.0 are also on board to bolster connectivity.
The tablet also has a 24-watt battery facility that virtually provides full-day sustainability.
Conclusion
The Surface, which is also available with the Windows Pro system, starts at USD 499. Overall – if you're willing to overlook the relatively bulky weight and the lack of apps, you can enjoy a significantly cutting-edge device.
Comments
comments