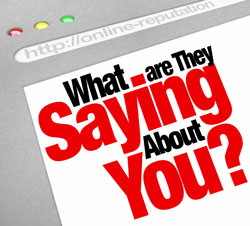 It is often difficult to control others when they talk about you in public or over the online forums. However, there are certain things, which you can do in order to nullify the negatives people talk about you or your business. No business is perfect; you are bound to commit mistakes at various junctures, however, these could be fixed by certain ways, which you carry out in order to control your business online reputation. Today, when you see every business has its presence on the web, hence it's vital to have an eye over your online reputation. The below is the list of certain measurements, which can help you in controlling your business online reputation.
Responding right to the critics
As per brand marketing experts, the best measure to deal with bad reviews is to respond to the same. You should be honest enough to confess when you falter and by accepting your mistake and with this you give a good message in the market. The fact of the matter is no one is free from committing a mistake and if you own it, you end up creating a good rapport or respect in the market. For example, at the Yelp site, the owners have the option of responding to different comments in order to offer any further explanation and the ways to sort out the problem.
Connecting with your clients/customers
You need to connect with your clients or customers to make your online reputation bad to good. There are various ways of doing so, for example, you can think of mailing an email to connecting over the social media site. Doing this can really boost up the business and client rapport, which in turn will help in controlling your online reputation on a longer run.
Search Engine Optimization
SEO is not just a tool to market and promote your site online but can also be used to correct your online reputation. Things at SEO have changed dramatically, what you saw a year before. Hence you would want to keep on sorting out the key on and a number of off page elements that you are employing to boost up the domain authority. You can carry out this through the audit what you own at the moment along with having a checklist that is required to make certain vital improvements. It is recommended to always work with a third party SEO expert who is abreast with the changing SEO requirements and algorithms.
Add consistent content over high ranking websites
There are so many websites, which is known for its authority and quality of content in perspective of different search engines like Google. The fact is by putting fresh and quality content over your site, you end up boosting up your rapport with both search engines and your target audience. The more quality content you add over your site, the more is the amount of trust and confidence you built among your target audience or customers. Carrying out the task of putting quality content regular basis with a proper schedule in place can really help you in controlling your online business reputation to a great extent.
Comments
comments