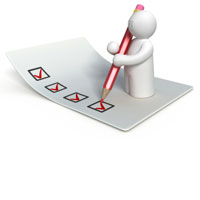 If you are looking for a way to make a bit of extra money on the side of your primary job, you have probably noticed TONS of different options around the web. Additional income sources can range from freelance work to selling old items on eBay and more.
Today, I want to talk about another great way to make some extra cash: participating in paid online survey panels.
In this post, I will explain how this business model works, how to find legitimate panels, and what kind of earnings you can expect.
How Does The Paid Survey Business Model Work
In order to truly trust this online money making method, I think it is important to understand how this particular business model works. Here is a short but effective explanation:
Big businesses are always looking for marketing research. This might be for a new product launch or for a new advertising campaign. The fact is, it is often easier for them to outsource this research. This is where paid survey panels come in.
These big multi-million dollar corporations will pay survey panels significant sums of money to conduct in depth marketing research.
The survey panels take the money from corporations, pull some money aside for expenses and administration, and then pass on the earnings to individuals who participate in the paid survey panels. (payouts can range from anywhere between 10% to 50% of the money paid from the corporations.
Members of the survey panels are sent the surveys and then paid for their participation.

As you can see, this is a legitimate business model that provides a WIN-WIN-WIN situation. The businesses get their market research, the survey panel takes a small amount of profit from the top, and survey panel members are able to make supplement income.

How To Find Legitimate Paid Survey Panels

As you can see, the paid survey business model is a legitimate practice. However, this does not mean that there aren't certain types of sites to look out for. After all, with every legitimate business model comes a few not so ethical competitors.

Here are a few ways to identify if a paid survey opportunity can be trusted.

Never pay to be apart of a survey panel. This does not mean that every site that makes you pay is a scam, it is simply something that I tell all of my readers to look out for and avoid. After all, the point of taking these online surveys is to earn extra cash, NOT spend money. By avoiding survey panels that force you to pay to sign up, you will be ensuring a risk free way to make extra cash.
Always check reviews and ratings. Don't sign up for a survey site unless you are familiar with its reviews and ratings. Many other people have used these sites so you can be sure that there is some solid feedback floating around the web. Don't ignore this valuable information.

If you follow those two precautionary steps, you should be able to ensure that you are not making yourself susceptible to scams or fraud.

What Earnings Can You Expect With Paid Survey Panels

Paid survey panels are typically not going to provide you with a steady full time income. However, it is not unheard of to make an extra $200 – $300 per month if you are really focused and organized.

The amount of money you can earn really depends on your strategy and how many survey sites you sign up for. Any one survey panel is not typically going to provide you with excessive income, but if you sign up for multiple panels and really focus on completing the surveys in a timely manner, you can certainly expect some decent cash flow.

Again, I wouldn't rely on paid surveys as a full time income source, but if you are looking for a way to make a little extra cash for a new TV or vacation, you should certainly consider online surveys as an option.

Comments

comments