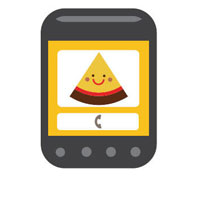 It's coming. Mobile search will soon overtake desktop searches. It might be sooner than experts predict because of the rapid increase in smartphone usage and the increase in smartphone upgrades. Is your business ready for it? Have you considered utilizing this untapped market? If your website has not gone mobile, here are a few tips to make it more mobile user friendly.
GoMo
This is a free website that checks how your website looks like when viewed from a smartphone. You just type in your URL and answer a few questions and the site will give you a free analysis and report. The full report includes tips on how to optimize your site. Take advantage of this free tool to give you a direction in your optimizing project.
Loading Time
A cellular loading speed is different from that of a laptop's so you might consider your website's loading time over a mobile device. The ideal loading time is 5 seconds, maximum. Anything higher than that, even if it's just a nanosecond, your website is considered slow.
Images
It's great to read an article or a blog entry that has a lot of images in it. Pictures enhance a reader's experience. But it's different when it comes to a phone. Images take too long to load so the user might not finish loading your site and go to a competitor's site. Choose one or two images that can fully convey your message.
Text
Text is another consideration. Is your font too small? Remember that a phone's screen is about 80% smaller than a laptop screen. If your target market is composed of adults, they might not have the patience to read what you have to say. Users should not pinch or scroll the screen to be able to read your text.
Navigation
Your buttons should be big enough to be pressed by a thumb, especially your checkout button. Make sure that it is easy to navigate your pages. Minimize links and always have a search box ready.
Mobile Plugin
Websites made using WordPress can be easily transformed to a mobile-friendly site by just adding a simple plugin. Ask WordPress how this works. It's free and simple. Be sure to backup your site before doing any changes just to be on the safe side.
Flash
A lot of mobile devices such as the iPad and iPhone do not support Flash. You are missing out on a lot of potential customers if you are relying on Flash to make great presentations. You might say that there is still the Android demography. Think again, Apple users still dominate the statistics.
DIY
Check out do-it-yourself tools that can you use to optimize your website for mobile usage. These tools can go for as low as $5 per month.
After incorporating all these changes, review your website's overall design and ask your clients for comments and suggestions on how to make your website better.
Comments
comments