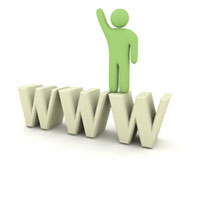 Starting a small business is probably one of the scariest milestones in anybody's life. After all, you're going to put a lot on the line. There's your hard-earned money to protect, as well as the time and effort you've invested into your small business. In addition to this, there will also be the blood, sweat, and long hours that you have to pour into your small business to make it a success.
Importance of Marketing
Marketing your small business is very important if you want to make a success out of your venture. If you don't get your company's name out there and your products and/or services introduced into the mainstream market, then you're going to have a hard time gaining back your investment. However, marketing is going to cost you a lot of money, especially if you make use of the usual media such as TV and radio advertising or yellow pages and ads.
Fortunately, there is one venue where you can cheaply yet effectively market your small business, and this is through the internet.
Online Marketing Tips
Before you start marketing your business online, you first have to arm yourself. You need to create your own website where you can introduce yourself, your product, and your service. If you have the technical know-how, then you can easily put up the website yourself. If not, then it would be better to hire a professional.
Having your own website is not enough, but you have to have very informative articles in the site as well. However, be careful in choosing the articles that you want to be included in your site. See to it that they are related to your company and to the products and services that you are offering. See to it, too, that the articles are making use of the right keywords that will draw traffic to your site. Again, if you don't know where to start when it comes to contents, then it is advisable that you hire an SEO specialist to get you started.
Website and article content are not enough, but you also have to employ the right online marketing strategies to attract the attention of your target market. Nowadays, there are so many companies – be it small, medium, or large businesses – that make use of the various social networking sites. Some examples of these sites include Facebook, Twitter, Squidoo, Digg, LinkedIn, and a whole lot more. The biggest advantage of using these social networking sites is t hat you can easily and directly communicate with your current and potential customers. You can interact with them, answer questions, address problems, share tips and advice, advertise your products and services, and promote your business. This is a very good strategy, especially for small businesses and startup companies, since this will automatically create a sense of community between the company and its target market, something that most large companies lack.
Marketing is a difficult job. You have to study your target market and your competition, and you also have to study the current trend. If you're having a difficult time marketing your small business, then you can hire an SMM specialist who can help you. You can even hire marketing companies to help you introduce and promote your business.
Comments
comments