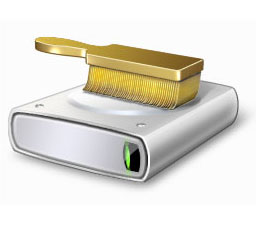 Over time, computers start to slow down. It's unfortunate, but it is a fact. They can start to bloat with too much information and unnecessary files, viruses can get into the computer, and you could start to see your computer's performance suffer greatly. You will be able to do several things to help get your computer back in shape including defragging the disk, running antivirus programs, and doing a disk cleanup. In this tutorial, we will learn how to use the Disk Cleanup utility for your Widows 7 OS. It's quite simple, and it can help get your computer running a bit faster, as it will remove those unneeded files.
Working with Windows 7
Running the Disk Cleanup utility on a Windows 7 machine should not take very long in most cases. It's also very easy to do. The first step is to click on the Start button, which is in the lower left hand corner of your screen. It looks like the Windows logo. Click on the icon once.
You will then see a tab at the bottom of the window that opens labeled All Programs. Click on this button to open up a folder showing all of your programs, and then click on Accessories, then System Tools and finally Disk Cleanup. This will bring up a dropdown menu, which is then going to give you an option of which drive you want to clean. Choose the C drive and click OK.
At this point, you will wait while the utility determines just how much free space you will be able to gain on your computer by cleaning up the files. It can take some time for the calculation, particularly on computers that haven't run the utility before. When the calculations finish, a dialog box will open, and you have the option of choosing what types of files you want to delete. The only boxes that you should check – to make sure you aren't deleting something that you might need – are the following: Recycle Bin, Temporary Internet Files, Downloaded Program Files, and Temporary Internet Files.
Click okay when you are sure that you have the right folders checked, and then click to delete the files. The utility will then go through and remove those files for you, freeing space and hopefully helping your computer to run faster. The cleanup, from start to finish, should not take long at all.
Comments
comments