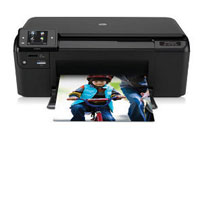 What does the average user expect from a printer? Reputable brand name? Yes. Efficient performance? Absolutely. Impressive features? Check. Convenience and ease of use? Definitely. What about reasonable pricing? For sure. Well, the good news is that Hewlett Packard's Photosmart 6520 e-All-in-One Printer certainly ticks all the above boxes. It's no wonder that HP has emerged as the most trusted computer peripherals company around. Without much ado, the many facets of the Photosmart 6520 are presented below:
Design
The Photosmart 6520 is a mid-sized color inkjet printer with a net weight of just about 13.67 pounds. The printer's dimensions of 440 mm by 565 mm by 436 mm (width, depth, and height) mean that it would comfortably fit on any table without burdening the user or taking up too much space. What is immediately noticeable are the dual lids (one devoted to the scanner) and the large 3.45 inch touchscreen digital panel attached to the printer's side. The 6520 comprises 2 input trays (one dedicated to photos) and 1 output tray along with ports for MSD, SD & MMC memories. The color scheme is a fetching all black. Furthermore, the printer is eco-friendly as it utilizes recycled plastic components.
Printing feature-set
Inkjet Color Printer with HP thermal technology
Black, Cyan, Magenta, and Yellow print cartridges
Capacity to output 500 A4 size pages per month
Text output is approximately 9 pages per minute while the photos output is roughly 3 pages per minute (individual results may vary slightly)
Capable of accepting 80 sheets for paper and 20 sheets for photos at a time
Output tray is capable of accepting 20 sheets
Besides plain paper (A4, B5, A5 and A6 sizes), many output types like bond paper, envelopes, labels, and transparencies may be used
Duplex printing functionality
Ability to print in borderless mode
Print Quality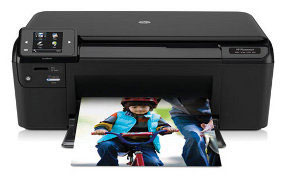 The Photosmart 6520 has the ability to render a computer-outputted 4800 by 1200 dots per inch in color and 1200 by 600 dots per inch in black and white. The prints are extremely commendable given the size and cost of the printer. The output is clear, smudge-free, and suitably accentuated. Whatever the print form – be it color, black and white, text, or graphics – the result is invariably more than decent.
Connection Options
First up, the Photosmart 6520 utilizes HP's patented 'Eprint' knowhow, which allows one to print wirelessly through Wi-Fi by sending digital messages to the printer
Compatible with both Microsoft (Windows XP SP3 or higher) and Apple (Mac OS X version 10.6, OS X Lion and OS X Mountain Lion) operating systems
USB 2.0 connectivity option
Scanning Proficiency
The included flatbed type scanner incorporates a 24 bit depth configuration and is able to optically scan resolutions of 1200 dots per inch. The scanner can handle paper sizes of dimensions 216 mm by 297 mm and process JPEG, TIFF, PDF, BMP as well as PNG file formats and the scanning speed is fairly quick. The absence of a mechanized feeding system may be an issue.
Copying Proficiency
The inbuilt copier is able to manage resolutions of 600 dots per inch for both color and black and white output. One may shrink and magnify output by 25% to 400% respectively and yes, the 6520 handles proceedings quite speedily.
Given the above specifications and the competitive pricing (around $150) the HP Photosmart 6520 e-All-in-One Printer is bound to please most buyers out there and thus is wholly recommended.
Comments
comments