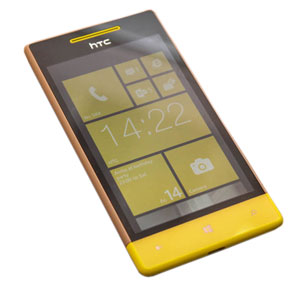 There are many reasons to be excited about Windows 8 and one of the foremost reasons is how it blends in beautifully as a phone operating system. No wonder then that virtually every phone maker wants in. Today we're looking at one such phone from HTC. The Windows Phone 8S is one of the phones HTC is releasing that runs on Windows 8 and we can expect to get our hands on it sometime in November.
It looks rather sleek but that's more because of its tapered off edges than its size. In fact, at 10.3mm it is not the slimmest phone- it weighs 113 grams- but it sports a neat 120.5X63mm frame and that extends the idea of thinness. If anything, it fits well in the hand and has a sense of substance to it.
There's power coming from a 1GHz processor, that's a dual core S4 at your disposal and plenty of RAM at 512 MB and 4GB memory. There's plenty of battery power in the 1,700mAH that accompanies the 8S but if you want more, you're going to be disappointed. The phone has a built in battery and you don't get access to it.
There's a 4″ display and the 800X400 WVGA LCD display is pretty much all you see at the front of the phone. It's a pretty clear display too. A large screen presence is a good thing, so we're not complaining too much. On the rather empty front, you will find Windows, of course, soft keys for search and back options on the bright color bar at the bottom of your screen and an earpiece above.
You'll also find the lock and power switch and a headphone jack on the top. Volume controls and the camera switch are on the side. All the buttons are easy to access. The phone gives you USB access through a port at its base and hidden inside the colorful case is a microSD slot for enhanced memory.
The phone boasts of Wi-Fi and Bluetooth and for your music needs, FM Radio, DLNA for better streaming of music, video and all media and Beats Audio technology. There's assisted GPS too.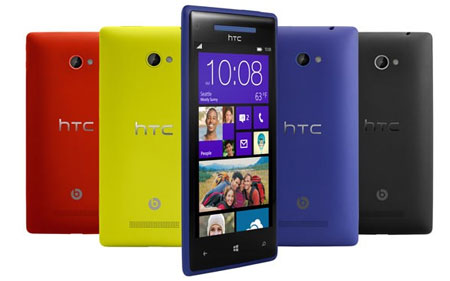 The camera is 5 MP and sports 720p video recording and LED flash. There's also a 35 mm lens and f/2.8 aperture which all translates to better quality for your images and videos. What's more, all this is easy to do because the button to click your pictures is on the side of the phone. This means you get to the camera without delay. So important for those in the moment memories!
This phone is sure to brighten up cold months, coming as it does in two tone colors. Choose from cool shades like Fiesta red, Atlantic blue, High-Rise grey- yellow and the Domino black-white. The colors are cheerful, keeping in line with HTC's liking of bright colors and make you happy!
Many carriers will carry the HTC Windows Phone 8S when it is out in early November. There's Vodafone, Carphone Warehouse, Three, T-Mobile, Phones4U and Orange in the fold so you should be able to access the device pretty easily. The HTC 8S is a good buy in the mid-size segment so do keep a lookout for it.
Comments
comments