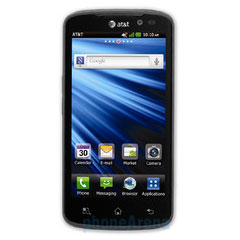 Features and Design
The LG Nitro HD is an Android Smartphone powered by a Snapdragon 1.5GHz dual core processor that originally runs on Android 2.3 Gingerbread. It comes with 4GB of internal memory and has a 16GB card already installed. This card can be expanded to 32GB for a total of 36GB. It supports 4G LTE or HSPA+ if you are not in an area with LTE. It has a volume rocker, 3.5mm headphone jack, power button, and a Micro-USB charging port on the side and then three touch sensitive buttons below the screen to return home, go back, and pull up the menu.
The screen is a 4.5 inch HD display sporting a 1,280×720 resolution. The Nitro HD comes with built in Android features like GPS, Bluetooth, Wi-Fi and more. There is lots of space for contacts, mailboxes, and social networking integration. It also comes with the basic Google apps that include Maps with navigation, chat, and YouTube. LG also has custom apps and features preloaded on the Nitro HD. They include Navigator, Family Map, Code Scanner, and other apps that cost extra per month, like Live TV. Some other apps that come preloaded on the Nitro HD come in the form of Amazon Kindle and Polaris Office and then the basics like clock, calculator, and calendar.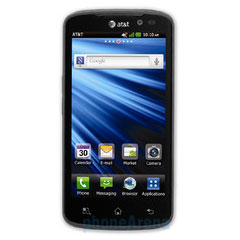 An impressive and fun feature of the Nitro HD are the ability to use gestures like flipping over the phone or tilting it to perform actions like silencing an incoming call, pausing a video, snoozing for an alarm, or moving an icon. Users can also simply take screenshots of the phones current display but holding down both the power button and the home button at the same time. The LG Nitro HD has a nice 8MP rear facing camera with features and capabilities such as LED flash and autofocus. The front facing camera is 1.3MP. Both of these cameras have the ability to take videos.
Pros:
Some good things the LG Nitro HD possesses and highlights is the 4G LTE support, a decent 8MP rear facing camera, a beautiful 4.5 inch HD display, and 1080p HD video. It also has a fast processor for speedy performance and feedback, has a slot for expandable memory, and its light weight.
Cons:
Some of the cons of the Nitro HD include a battery that drains quickly, significant shutter lag on the camera, audio quality during phone calls, and speaker phone quality. There were also some issues with camera quality in certain settings and a few issues with reception. There were also some complaints on memory even though it offers a slot for expandable memory.
Comments
comments