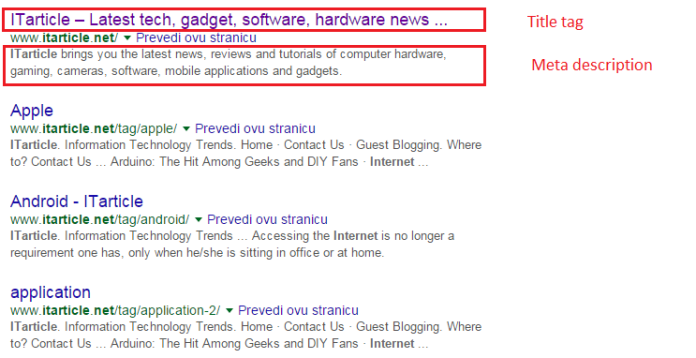 Meta tags play an important role in search engine optimization. When used properly, they help obtain a lot of SEO traffic and serve as the foundation upon which the rest of SEO strategy is built. In fact, most SEO experts will agree that meta tags are the most crucial SEO related HTML elements (on-page element, that is). They consist of tags that are placed in the head of a HTML code, and can be found at the top of every page. The following text will explain the basics of three kinds of meta tags – title tags, description tags and robots tags.
Title tags are the first thing a search engine spider analyzes. They appear at the very top of the browser window when you open a certain website. The usefulness of title tags goes beyond SEO: they are crucial to attracting visitors and getting their attention. The relevant keywords ensure that potential visitors get a glimpse on the content of the website.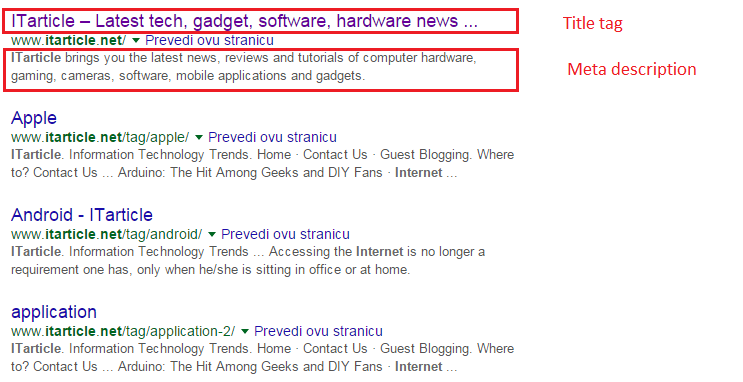 A couple of years ago a lot of title tags included mere keywords, which was then considered effective, but now has certain spam connotations (and search engines' algorithms changed significantly in the meantime). Keywords are still important, but writing a title tag which will describe and relate to the content increases the click-through percentage. To put it simply – keywords are best when included naturally in the description.
The rules regarding the length of a title tag may also be changing: nowadays their maximum length is 75 characters (spaces included), but Google has been experimenting with title tags which have 55 characters, so the reduction of their length is to be expected at some point in the future.
If 55 characters seem too few, you can describe a website more thoroughly in the meta description tag. Although Google does not use it when determining page rank, it will still show up in search results, providing more information than the title tag. It can be up to 150 characters long per page, basically providing a brief summary of the content on that page.
You might rightfully ask yourself: if Google doesn't take it into consideration when determining page rank, do I need it at all? It depends: although not a staple of SEO campaigns, it's considered good practice to have a well-crafted, meaningful description tag.
The third kind of meta tags, meta robots tags, were created about ten years ago, as a mean to enable website owners to prevent indexing some pages of their site. As years passed, several major search engines added additional options to the tag. Many website authors include the tag since it can be used to explicitly "invite" search engines to index pages – although that is unnecessary, as pages will be indexed even if they don't contain the robots tag.
But the robots tag is useful when you wish that search engines don't index your pages. By adding the tag on a page (), that page won't be included in search engine listings (although, bear in mind it will still be spidered – as search engines will continue to revisit that page to inspect if the tag is still there).
To sum it all up, it's clear that meta tags have a significant impact on SEO; by improving search engine rankings (the title tag), encouraging users to visit your website (description tags) or even preventing engines from indexing your pages, they continue to be an important tool in the SEO industry.
Comments
comments