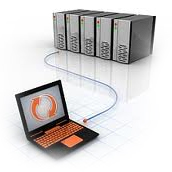 The distinction between this and other types of backup, such as backing up to flash drive and CD, is that when you encounter a disaster, the onsite backup product might be damaged or stolen.
Facts about data backup
Backing up valuable information on the computer is often seen as an urgent task because of the danger of data loss. Unexpected power surges, vandalism, and hackers, as well as natural disasters such as floods and fires, might cause your data files and other important information on the computer to get lost, unless they are backed up.
Backing up conventionally, for example to an external hard drive or CD, may protect your important files, although they are vulnerable to damage and theft, since most people keep this kind of backup in one location. Another problem is remembering to create the backup in the first place.
The online backup system is automatic, and once you buy this type of backup, you just set it up and it will automatically back up all the files you select. Its remote location backs up files without any problem for future retrieval. Keep in mind that backing up data online ensures that the data of your customers is well protected at a safe remote location.
Features of this type of storage and backup
Storage space is normally the most significant feature of this type of backup. A few services provide access to the archived files for a restricted time, others do not delete files from these archives. With many services, one is required to open a separate account for each computer, whereas others allow several computers to be backed up with only a single account.
Significance of backing up online
Online backup offers peace of mind since photos, important data files and other valuable documents are securely stored online as well as offsite. When the computer crashes, data is retrieved with no problems. This is particularly important for businesses since the files incorporate valuable documents, for instance employee records as well as banking information.
Considerations when choosing a package
Select a company that has a good reputation for security. Remember that your important files are going to reside with the company, and you need to prevent hackers from accessing it. Most services encrypt files for storage. This encryption implies that they will change files to code; therefore even if a prowler steals these files, they will never make sense to them. The next factor to consider is the customer service department of the company, and how accessible they are when an issue arises.
A word of warning
This type of backup ranges in price for the storage space, and this is the biggest disadvantage of backing up online. The trick is backing up only the vital files, and deleting older files when the new ones are being prepared.
Comments
comments