Are you one of them who are facing "OST is in use and cannot be accessed" error while accessing OST? Do you know any technique to resolve this issue? If not, then this is the right platform for you. Here, in this blog, we have discussed some very useful methods to rectify this error. Before that, let us go through a brief introduction of Outlook (2016, 2013, 2010, 2007, 2003) OST file.
Overview
Microsoft Exchange Server users' who access their mailboxes in offline mode via Outlook 2013 are aware about OST files. This is a file format, which is created in an automatic manner when Cached Exchange Mode is on. It stores the replica of MS Exchange mailbox locally. This makes it possible for users to access the data even without the internet connection.
However, like any other file format, OST is also prone to corruption. It is possible that users have to encounter certain errors due to this corruption in OST files. These errors creates hurdle in between of the work and affects the productivity of a company. Moreover, sometimes these error messages make the situation very annoying. "Outlook 2013 OST cannot be accessed" belongs to the same category. There are certain reasons behind this error that we will discuss the below section.
Responsible Factors For OST is in Use and Cannot Be Accessed
Various users trying to use the same Outlook 2013 OST file
Interrupted Internet connection
Running contradictory programs with MS Outlook
Inappropriate synchronization of OST file with Exchange Server mailbox
Attempt to access OST files in an unauthorized manner
Tricks to Fix Microsoft Outlook Error
There are four strategies to repair Outlook OST file and fix this error as mentioned below:
Convert OST to PST
It is one of the recommended ways for the resolution of this error and can be done via manual as well as third party tool.
A. Manual Method
Firstly, run MS Outlook in safe mode & then perform these steps as mentioned below:
Click on File >> Open >> Import
In the displayer windows, choose 'Import from another program or file'
Similarly in the next pop-up, choose 'Outlook Data File (.pst) and click on Next
Click on Browse & choose OST file, which you want to convert
Choose the desired option to replace, ignore, or allow import of duplicates email items and click on Next
Pick the location for storing exported file and click on Finish
Limitation: Manual migration of OST to PST is quite risky. It may result in data loss and the structure of the original file might get altered once conversion is done. It a lengthier process and takes much time for the accomplishment of the whole task. Moreover, it is unavailable in above Outlook 2007 versions. Therefore, to handle these drawbacks  user may opt for a trouble free method.
B. Third-Party Software
OST to PST Converter is one of the reliable software for converting OST file into PST format. It has the potential to rectify any kind of Outlook error that to be in a quick way. Using this software, users can move OST files into PST format in bulk. Once the conversion is done, it becomes very easy to access the resultant file into Microsoft Outlook.
Scanost.exe to Repair OST Files
Microsoft brings a free program for repair corrupted or unhealthy OST files. The name of this application is Scanost.exe or Inbox Repair Utility. This can execute the recovery of OST files. This is also known as "OST Integrity Check" software. Follow these steps as mentioned below to use this application:
First, quit Outlook via Task Manager in case it is running
After this, locate ScanOST.exe on the machines and launch it. The default location of this program is \ScanOST. For instance, C:Program FilesMicrosoft OfficeOffice12SCANOST.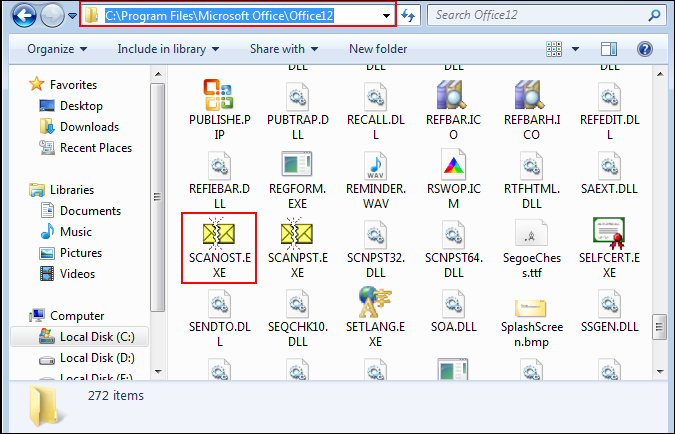 Now, type in the profile name of Outlook when the program prompts for it
In the next step, select Connect, in case the tool prompts
Then, choose from the required options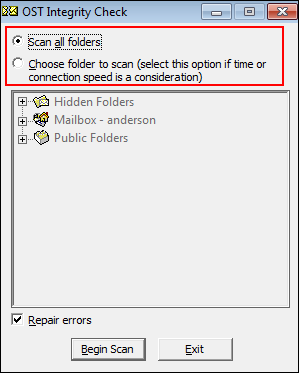 Choose "Repair Errors" checkbox. With this, the program will automatically mark and remove errors.  If the checkbox is not chosen, the application will detect the problems but will not rectify them.
Finally, hit on "Begin Scan"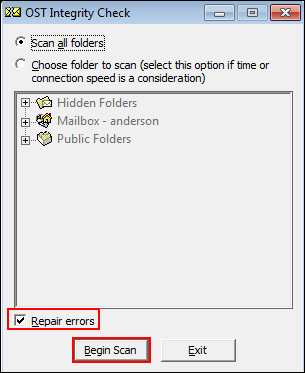 Note: This is program is available in Microsoft Outlook 2007 and older editions. In addition, it can fix only minor corrupted OST files. For highly corrupted files it will not work. Therefore, go for the next method as mentioned below.
Disable Cached Exchange
As the matter of fact, the OST files are generated in an automatic manner if Caches Exchange mode is enable. Therefore, it is suggested to disable it by following methods as mentioned below:
In the first step, quit MS Outlook via Task Manager in case it is running.
Now, you need to open Control Panel >> Mail >> Email Accounts
Then, under the tab of Email highlight the mail address , which is displaying the warning
Choose Change
After this, unmark "Use Cached Exchange Mode"
Choose Next >> Finish
Finally, try to re-launch Microsoft Outlook.
The Bottom Line
Microsoft Outlook is very much popular for its fast working and managing the data. However, like any other platform the file created by it may get damaged. This results in some errors that are very annoying. One such error is "OST is in use and cannot be accessed." Therefore, considering the importance of Outlook for business continuity, we have introduced some tricks to rectify this error. We have also learned about a unique tool to make our task easier.
Comments
comments