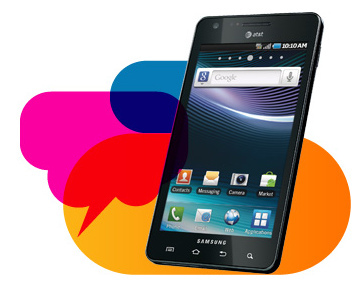 Features and Design:
The Samsung Focus S is a Windows Phone running on Windows 7.5 Mango. It has the capability to run on 4G and Wi-Fi. It also doubles as a GPS and has Bluetooth connectivity. It is very easy to use and navigate through menus. The Focus S is 5 inches tall, 2.6 inches wide, 0.3 inches thick, and weighs in at 3.9 ounces. It has a 4.3 inch Super AMOLED display with an 800×480 pixel resolution. The Focus S comes with 16GB internal memory and no microSD card slot for expandable memory.
It does however come with 25GB of free online storage for photos, videos, documents, and more. The start screen and tiles are customizable (can change position and color). It has a few physical buttons on the frame like the volume rocker, power button, and camera shutter button. The Focus S allows the user to seamlessly integrate their social media, link email inboxes, and perform group messaging. Some other basic features include speakerphone, conference calling, voice dialing, clock, calendar, and Internet Explorer 9. Microsoft also preloads the Focus S with Bing Maps, Navigation, and Search, Xbox Live, Bing Mang, Zune Music with music mixing features, and Bing Vision.
AT&T preloads the Focus S with their own apps like Code Scanner, Navigator, Radio, and U-verse, which allows the user to stream television shows. The 8MP rear facing camera can take snapshots and record videos with little shutter lag.
One of the cooler apps that can run on the Focus S is the Photo Studio app with lots of editing tools and features. The user can edit contrast, sharpness, resolution and more. There is also a 1.3MP front facing camera for taking pictures, recording videos, and video chatting. The Focus S has a battery that has a standby time of ten days and a continuous talk time of 6.5 hours.
Pros: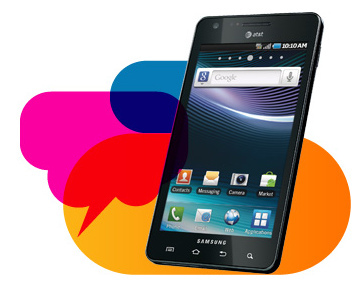 The Samsung Focus S has a great camera, brilliant display, a very intuitive user interface, runs on a great operating system (Windows Phone 7.5 Mango), Tango works very well, Zune is exceptional, it is thin and lightweight, 4G, fast and responsive, easy to use, decent battery life, a 1.3MP front facing camera, and can access and edit using MS Office.
Cons:
The biggest disappointment for the Samsung Focus S is its inability to use 4G LTE speeds. Other cons are the need for a memory expansion option, has some issues with screen flickering, flash player is not available, has a flimsy back cover, the camera's performance in low light is poor, and the selection and availability of apps is lesser compared to Android and Apple. Also, some may not like how thin and lightweight it is, mainly because it gives it the appearance of being fragile.
Samsung has many new mobile phones on the market. Click here to compare the Focus with other Samsung models.
Comments
comments