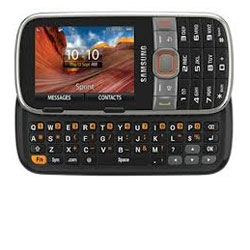 Presenting the Samsung Montage, a cell phone that is largely aimed at budget customers and which occupies this niche category with prestige. Continue further for a quick (and interesting!) summation of its features.
Key attributes
QWERTY type slide-out phone
CDMA 1900MHz frequency
TFT LCD screen with 240 by 320 pixel resolution
480MHz Qualcomm (QSC6155) processor with 128 MB RAM
40MB in-phone storage expandable to 32GB
2 megapixel rear camera
Music and Video player
1000 mAh battery capacity
Looks and layout
The Montage, which bears a fetching silver and black color theme, resides in a sturdy 4.4 inch by 0.59 inch by 2.1 inch frame that weighs 3.7 ounces. Due to these factors, the cellphone feels robust and has a decent grip.
The Montage's QWERTY keyboard is its standout design facet. It can be slid out from under the phone in landscape mode. The keyboard is arranged in four rows and contains, besides the standard characters, numerous function commands for easy emailing and texting. The keys themselves are nicely structured, possess well-etched characters, and return good tactile feedback. There are also two control keys aligned with the screen that may be used along with this keyboard.
The cell phone also features a standard mobile keyboard that comes with an embedded multi-directional control pad and central button. Here too the receptiveness of the controls is admirable – the keys are comfortable and the multidirectional rocker affords convenient navigation through the various menus of the cell phone.
The 2.4 inch screen (TFT LCD type) is clear and bright sporting an adequate QVGA resolution of 240 by 320 pixels with a configuration of 286 pixels per inch.
The back portion of the Montage houses the camera lens while the rest of the frame comprises ports related to micro-USB, micro SD, 3.5 mm headphone jack, and camera controller.
All in all, the Samsung Montage can be said to exude a smart and functional look.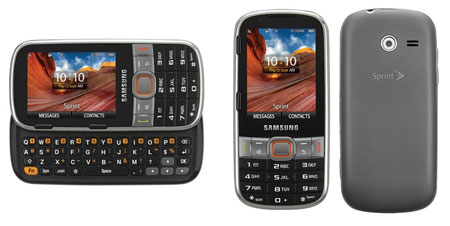 Performance and internals:
The 480MHz Qualcomm single core processor, aided by its RAM of 128 MB, is capable enough returning acceptable performance without significant lags.
The 40MB internal memory expandable to 32GB (through micro SD) more than suffices to hold normal users' documents and multimedia files.
Furthermore, Samsung's proprietary software is intuitive making the interface user friendly and tractable.
Call quality
The Montage, which comes with a standard CDMA 1900MHz frequency setup, delivers suitably commendable, loud, and distortion-free voice clarity regardless of the network.
Connectivity
The Montage is equipped with the following features that enhance communication:
Samsung's HTML-enabled web browser for internet surfing, downloading files, and checking social media accounts.
Bluetooth 3.0
WAP and GPRS
Multimedia and predictive text messaging support
Micro USB and micro SD card slots for transferring data
Camera and video
The 5 megapixel rear camera shoots fairly clear photographs as has varied settings like night mode, white balance, brightness control, panorama etc. There is no LED flash though.
The video function also gathers similar results given the right lighting. It outputs videos in standard 3GPP and MP4 formats.
Other notable inclusions
Music player (multi-format)
Polyphonic ring tones
Speakerphone
Voice Recognition
Voicemail
Picture Caller ID
Verdict
Ostensibly, the cell phone's lack of smartphone features and its modest battery could be an issue to some. But overall, the Montage has the fundamental design, features, and specifications to please most budget consumers looking for a solid and reliable mobile companion.
Comments
comments