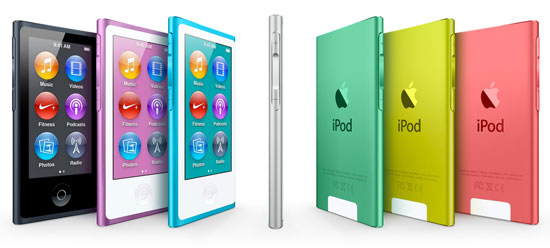 The iPod nano has seen quite a few changes since its inception in 2005. Now in its seventh generation, it boasts a 2.5-inch touch screen and its own operating system, making it feel like almost like a miniature iPhone. However, is it worth the price point to purchase one? This review will take a look at the iPod nano to better help you decide if you should consider purchasing one.
Differences Between Generations
The sixth generation of the iPod nano was the first to introduce a touch screen, but did so in a smaller 1.55-inch square shape. Apple has continued with the touch screen element with the seventh generation nano, but has now changed it to a larger, 2.5-inch screen. To add to this extended screen size, users can also view photographs and watch video. Also, Nike+ can be synced to the device, for those looking to track their athletic workouts on this small and convenient device.
Matters of Size
Although the term 'larger' was mentioned in the preceding paragraph, the seventh generation nano is anything but large. Apple claims that the nano is the size of a credit card. But upon comparison, even a credit card looks big next to the nano. This is a really great feature as it is small and compact, as well as really sharp looking, making it easy to carry around or use while you are working out. The only downside with the small size is that, even with the added capabilities to view photos or videos, it seems a bit illogical to be staring at such a small screen for an extended period of time. If you are in a pinch, it could work, but it seems to be more of a novelty idea than a required one.
Nano Accessories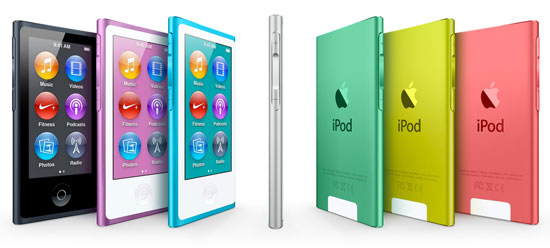 Much like its predecessors, the seventh generation iPod nano comes with a pair of headphones and a charging port. However, these additions are different than previous units. The nano is now charged by the lightening connecter that Apple has been using to charge its most recent product lines. While the lightening adapter does work well and allows you to charge your devices much more quickly, Apple fans who have not upgraded to a new iPhone or iPad mini will be disappointed to find that many of their old accessories do not work with the new nano. However, as Apple continues to release products with the lightening adapter, it is inevitable that users will have to change to accessories that are compatible. As for the included headphones, they too are different. Recently Apple has been selling EarPods as their new standard headphones. These EarPods are included with the seventh generation nano. While the changes are subtle, users will notice that they do sound better and are a bit more comfortable. And most importantly, they are still the iconic Apple white color that came with the original iPod almost a decade ago.
Aesthetic Quality
The overall appearance of the iPod nano is what you'd expect to see from most Apple devices. The left side of the unit has a button to control volume. If you click the middle section of the volume button, you are able to pause, play, and skip audio tracks. One of the added benefits of the new iPod nano is the touchscreen, but the ability to control your music from the side buttons comes in handy in times you may not expect. The top of the device has a sleep button, and the bottom has a place for your lightening charger and headphone attachments.
All in all, the seventh generation iPod nano is a very neat device. With its condensed size, the nano feels and looks great. It also lasts for days on a single charge. The only drawback is that it has an elevated price point. At $150, it is hard to argue that it is $100 better than, say, the iPod shuffle. With that being said, if you already have an Apple device like the iPhone, than the touch screen seems more of a novelty addition that you may not need. However, if you are looking for a new device that can play music and allow you to watch videos and view photos for less than the more expensive devices, the new seventh generation iPod nano is an ideal option.
Comments
comments