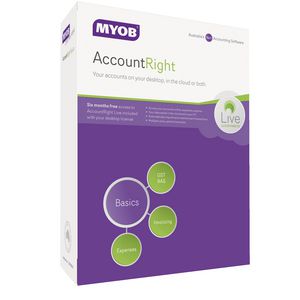 In practice, there's no such thing as the 'best' accounting package for small business, because different packages will work better for different businesses. If a business provides services they will likely not need inventory capability, a retailer probably will not need to bill based on time, and the number of employees in a business determines how important a payroll capability is. Therefore, consider the following 7 products based on the specific ways that your business works. Don't take a 'checklist' approach to choosing an accounting package — you want to evaluate the software in-depth.
MoneyWorks Express
MoneyWorks Express is an excellent choice for firms whose customers have specific demands about what information must appear on invoices (e.g. the order number), and it is also the only desktop package in this list which works both on OSX and Windows. Another welcome feature? The software provides a comprehensive manual at the user's fingertips, not just onscreen help, which can be a lifesaver when performing complicated tasks.
As mentioned above, MoneyWorks includes a special feature for businesses dealing with large firms which require invoices to include the customer's own order number. This feature will require a purchase order number when the software goes to create an invoice for a particular customer. Similarly, it provides for so-called 'head office billing', which is a situation where invoices are sent to different branches of a customer but the payments come from the head office (often with payments from several invoices lumped into one).
MoneyWorks does not include payroll features or bank feeds, but it does allow importing bank statements.
MYOB AccountRight Basics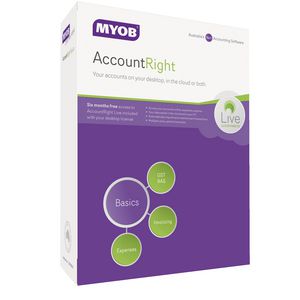 MYOB is one of the best-known software packages among bookkeepers and accountants, so it's very easy to find someone with expertise using the software.
AccountRight nevertheless can cause some irritation, such as requiring users to enter the quantity of items on each new invoice (it defaults to 0). It can handle receiving a single payment to cover multiple invoices, in which case it allows the user to allocate payment either by the 'oldest first' or manually over particular invoice. However, sub-customers must be handled using dummy accounts and transfers.
MYOB generates its BAS reports as a facsimile of the official ATO form, which is useful and minimises errors. It also integrates well with Microsoft Office and includes all the major features one would expect of an accounting package.
Reckon Accounts EasyStart
Reckon Accounts EasyStart is a cash-only accounting program, though it can handle invoicing. Unlike other programs it does not include BAS reporting, under the assumption you will leave this to your bookkeeper, though more advanced Reckon Accounts programs will handle BAS reporting and lodgement.
Overall Reckon Accounts EasyStart is the most limited program on the list, though more expensive versions include more features.
MYOB LiveAccounts
The first 'cloud' program on the list, MYOB LiveAccounts takes some care when you set it up — an incorrect choice of business type can cause trouble down the line. However it does provide bank feeds, contact, and item importing (even if it may take some work to massage data into the format which LiveAccounts requires for importing).
Unlike MoneyWorks Express, MYOB LiveAccounts is not suitable for businesses which need to do head office billing or create sub-customers.
BAS reporting is quite good. It does not generate a facsimile of the official ATO form, but the GST reports are easy to transcribe.
Unlike many of the other packages, the LiveAccounts payroll system is surprisingly full-featured. It includes provisions for penalty rates, overtime, superannuation, overtime, and more.
Saasu
Saasu's cloud accounting package provides simple invoicing capability (though it does allow attaching scanned receipts and PDF files to transactions) and covers the most common types of accounting.
Like Xero, Saasu also allows for integration with many other online product and service providers — PayPal, Magento e-commerce, eBay, Amicus POS, and SprintPOS.
Xero
Xero is a cloud accounting package designed from the ground up for cloud use. For example, Xero users can send each other invoices and have them automatically appear as bills in their own system (or vice versa). Many other aspects of the package take advantage of its online presence, such as confirming customers' addresses using White Pages' Total Check address confirmation service.
Like Saasu, Xero also allows attaching files to records. It also allows defining GST-free customers for businesses who deal with overseas clients, though it does not provide sub-customers or 'head office billing' support.
Though Xero does not provide billing or time tracking, it integrates well with various 3rd-party time tracking and billing companies. Lastly, Xero is widely used among accountants and obtaining training on Xero is quite straightforward.
Intuit QuickBooks Online Simple Start
QuickBooks Online is a widely used cloud accounting package which provides many features, including a mobile version and customisation. (Users should go through the 'Customise' questionnaire in order to fit it to their needs.)
QuickBooks Online is particularly flexible in terms of importing data, as it allows importing from Excel, Gmail, OUtlook, and Yahoo! Mail. Sub-customers (the equivalent of head office billing in MoneyWorks) are well supported, including combined payments.
With respect to BAS reports, QuickBooks provides a simple report that is sufficient for copying numbers over to the official form but does not provide a facsimile of the form, which can result in errors.
Overall the accounting features which Simple Start provides are fairly comprehensive (though it does not include payroll, time recording, or billing). However, the $15 per month Simple Start version is cash-only accounting and only allows you to enter bills as they are paid. Upgrading to the $25 per month Essentials version or to an even more expensive version is necessary to get more.
Comments
comments