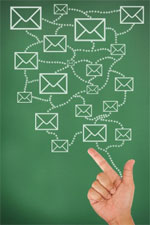 As technology has progressed, office workers are finding they're spending (or wasting) a large amount of time dealing with email. Many hours are spent writing, reading and replying to multiple messages over the course of a single week, and depending upon the company and services offered, an office worker may spend a lot of time juggling several different email accounts.
The reason for this is that, if you're a business owner, it may be best to have separate email accounts handling one's customer service, sales, recruiting and any business news. Accounts may also be set up for a company website and blog page. These multiple email addresses not only help with organizing day-to-day business duties, but can also keep track of different business functions. Managing time properly, staying organized and finding a balance among all these accounts are all crucial tasks, and here we'll look at the best ways to manage multiple email addresses within Microsoft Outlook.
Outlook management
Outlook has a variety of tools to help manage your email accounts. One beneficial tool is the ability to rename accounts and/or add aliases to a current account. Another great tool in Outlook is the ability to create folders. This can help organize all incoming email by type, sender and importance. Create folders that work best for the business, the type of email account and the messages received. Programs such as Nelson Email Organizer, Omega Pro and ClearContext IMS Pro can be used to help organize and prioritize emails into folders as they are received.
Distribution lists
Set up distribution lists for each email address. This will help separate sales, product, job applicant and other business-related messages. You'll be able to prevent emailing product information to someone who's looking for employment or sending sales information to a vendor looking to sell to your company, not buy from it.
Signature blocks
No matter which email alias you're using, it's important to use a signature block at the bottom of every email that includes your name, title, company name and any contact information. This not only informs the recipient who's sending the email, but also provides all the necessary info. Make sure the signature block matches the email address and is no longer than 10 lines. Avoid using quotes, logos or anything else that isn't imperative to the email.
Strategy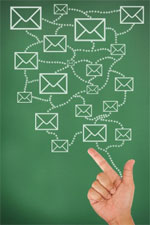 Each email alias should serve a purpose. Set up only the email alias that's needed to successfully and efficiently run a business. Don't create emails just because an alias is available. It's best to set one up for every line of business within the overall company. For example, some lines may include customer service, sales, recruiting, information requests and monthly newsletters. You may also need to address the issue of whether to establish an in-house server or choose to use a hosted email service through a third party. Outsourcing your email service can take a time-consuming responsibility off of your IT department's list of responsibilities and allow them to focus on other tasks.
Organizing
To keep an email account's inbox from becoming overwhelming, it's important to keep up with incoming messages. This doesn't mean to stop every time a message comes in. Set aside a set schedule to check emails. It can be every hour, three times a day or even once a day. It all depends on the demand and total amount of emails received per day. Immediately discard any junk email or messages that have been taken care of. Anything that needs to be addressed at a later date should be moved into a "To Do" folder. Everything else needs to be organized into folders based on topics, sender, recipient and so on.
The need to juggle multiple email accounts is a necessity in today's business world, and getting better acquainted with Microsoft Outlook can help you keep your messages from getting out of control. Devising a strategy for handling your different accounts will help improve your efficiency on the job and prevent you from losing part of your day, week or month to the working world's biggest time waster.
Image credit: Nujalee on Freedigitalphotos.net
Comments
comments