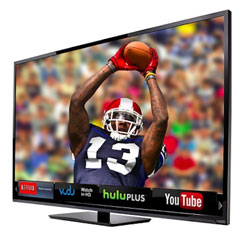 Selecting the best HD television is one of the toughest tasks unless you are an expert or a television technician. It is just not like buying a laptop or a mobile phone. Most television specifications are same and are difficult to distinguish. Hence it is important to listen to an expert's advice or study different reviews on the net.
Here is a review on the Vizio E601l – A3. This television is yet another strong contender if you are looking to buy a TV and if you have already made your list of favorite TV models to choose from.
The Overview
To begin with, the Vizio E601l–A3 seems to be a great television for the price range it is offered. A 60-incher, LED and HDTV for just $999.99 seems to be a worthwhile promise for the big and bright picture, in-built Wi-Fi feature and plenty of other Internet services to go with it. The television does not support 3D format but boasts brilliant and accurate colors.
The design
The television is large and plain but does not lack style. The bezel make and design of the TV is glossy black with a metallic logo of Vizio on the right corner. Like most HDTVs a thin layer of buttons with limited functions sits on the left edge of the TV. Most other complex functions are carried on by the remote control.
The rear side of the TV features two HDMI ports with component video inputs and a couple of USB ports. There is an RF connector for in-built tuner support, Ethernet port, analog and digital audio inputs and a VGA input facing downwards.
The remote Control
The remote control console is just one piece of plastic instead of the modern sliding design. It features standard remote control functions on one side while there is a QWERTY keyboard on the other side for easy text inputs.
Connectivity
An inbuilt Ethernet and Wi-Fi connection allows you to access a variety of social networking services and other Internet contents. By hitting the VIA button (Vizio Internet Apps button) a list of services appear in the bottom of the screen. This is an easy way to explore offerings online without disturbing what you are already watching on the Vizio E601L-A3. You can access Hulu Plus, Netflix, Amazon Instant Video, Yahoo, Vudu apps and videos, Facebook and many other popular services.
Performance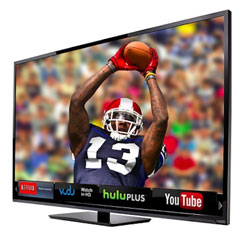 After various contrast calibration tests held by technicians, the Vizio showed a peak brightness level of 250.88 cd/m2 but showed an average black level of 0.05 cd/m2 for a contrast ration of 1:5,017. The readings are quite impressive considering that the Vizio is a budget HDTV.
Color contrast levels were brilliant with the Vizio featuring multiple temperature color control settings. You can set individual channel color settings to your likings. The option of prioritizing energy efficiency with contrast is very standard without much detailing. There are no noticeable changes affecting the display's image or power consumption on either setting. The model is neither power-efficient one nor as power-hungry as their plasma cousins.
To sum it up, the Vizio E601L-A3 is the right choice if you want a big screen for a small price. It is feature-rich though it has its own weak points in the connectivity, picture quality and other aspects.
Comments
comments