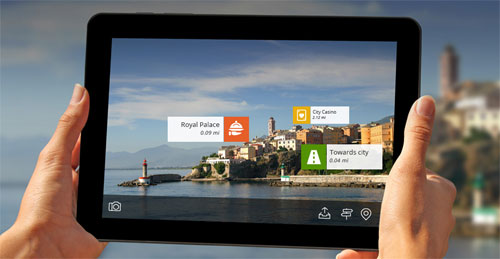 Innovation in technology knows no boundaries. Recently, the Augmented Reality wave has been reaching new shores and ensuring that we have a better view of the world around us.
It would have been hard for people to believe that digital information can actually be overlayed on real-world objects had we been living in the 19th century.
Introduction of devices such as Google Glass, Atheer One and Meta's SpaceGlasses strongly emphasizes that we will actually be interacting with objects around us in real-time.
AR is galloping as its compound annual growth rate is over 120%. Experts suggest more than 3.5 billion AR apps will be downloaded by 2017. One of the major reasons why Augmented Reality is going mainstream is that it paves way for greater interactivity and offers real-time information of the space we live in. Businesses have started relying on this technology to take their marketing/advertising campaigns to the next level.
Well-known names such as IKEA and National Geographic have used AR to make their campaigns more interactive and engaging. A handful of software development kits are available in the market that can help you build mobile AR applications. Some of the best ones include Metaio and Vuforia.
No matter which business you own, augmented reality can help you improve your customers' existing experience with your product/brand/service. Here are some ways how AR can enhance your marketing campaigns.
Compelling Product Information
AR mobile apps allow end-users to scan products and view product information in multimedia format such as 3D models, animation, audio and video. Retailers can display every detail of the product including how it is made, pricing, discount schemes, how it works etc. in a creative way. The impact on your customers' mind is certainly higher when they view your product in a whole new way. Lego came up with a brilliant campaign wherein children can actually see the final product as a simulation on their product boxes.
Make brochures, print advertisements & catalogues more interesting
Static product catalogues, flyers, brochures, newspaper & magazine print ads can be brought to life with augmented reality. For instance, if you own a real-estate business, your upcoming properties can be shown in a different way. With an AR app, your prospects can find their dream properties by just pointing their smartphone in a specific direction. What's more, you can even take them on a journey where they can see how it feels like to live in their dream house.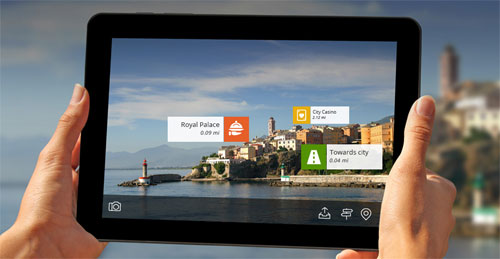 Let your customers try out products virtually
Another way to catch your prospects' attention is to let them try out products before they buy it. A virtual dressing room can help retailers improve customers' experience by eliminating the waiting time. Similarly, ecommerce retailers can use this technology to help customers see how a product looks like before making the final purchase. For instance, let's say you sell apparels, jewellery, watches, glasses, shoes etc. on the internet. Customers need to have a PC or similar other device with a web cam.
The system will automatically detect the relevant points and allow customers to align the selected items. Customers will be able to see the type of watch, jewellery, shoe, glasses etc. they are wearing. Boucheron Paris created such an interactive experience for their customers and the results were phenomenal.
Showcase promotional offers anytime, anywhere
Combining geo-location with AR, helps you provide promotional information to customers virtually. You can create loyalty programs, send coupons and much more!
If you looking forward to engage your customers with a new advertising/marketing campaign, it's worth considering Augmented Reality. It's poised to transform our world significantly! See your brands come to life with AR…
Comments
comments