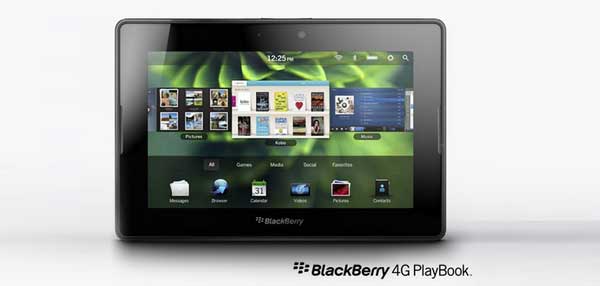 The BlackBerry Playbook 4G may be launched very soon. Analysts believe it could make its debut within the next few days. The most awaited BlackBerry tablet will finally make its way to the retail stores near you… It is expected to make its debut in Canada first, then in the U.S.
A Canadian retail site already pegged the price… At nearly $550, you can get a handset that offers a vibrant 7-inch touch screen display and a high-end pixel resolution of 1,024 by 600. The processor of the tablet is snappy thanks to its 1.5 GHz dual core chipset. It runs at an efficient 1 GB of RAM with an internal storage of 32 GB.
The impressive touch screen display tablet runs on a BlackBerry 2.0 operating system. What's unexpected is its built-in dual camera. The rear end consists of a 5 megapixel camera while the front-facing camera stands at 3 megapixels. High definition recording is what this tablet offers as it allows you to record 1080p videos. As part of the bundle, extra features such as 4G LTE support and HSPA capability…
Such handset was in the works for quite some time. Last year, RIM announced its plans to develop a tablet at the Mobile World Congress. Wireless carrier Sprint had plans to purchase the tablet the moment it became available but had to pull out at the very last minute. The carrier didn't expect the tablet to have an LTE feature…
With the BlackBerry PlayBook making its debut is just a matter of days now, it's still not clear whether or not the public will like the handset. The PlayBook will face stiff competition from Android and iOS tablets that are very popular for their features and usability. Another threat the BlackBerry PlayBook will be facing is Amazon's very own Kindle Fire, which is very popular in North America.
How will BlackBerry's PlayBook perform in today's crowded tablet market? RIM is in a bad financial situation and needs the tablet to perform very well, but Apple is rumoured to release of a smaller version of the popular iPad. The iPad Mini might not be as powerful as BlackBerry's PlayBook but no one knows if the Mini will come with a 4G feature or not. The BlackBerry PlayBook will be appealing for many because of its 4G capability. This is a great feature many have been waiting for quite some time.
About the author: This article was written by Matt Atkinson. For more articles from him, check out his review of the BlackBerry Torch 9800.
Comments
comments