The Zen Ultratab A900 was launched recently; it's a powerful tablet with a satiny finish good looking and strong body, but the performance is just fair to middling. For that reason, you should take a look at other tablets available in this price range, and believe me you have loads of options.
Features and Looks
The Zen UItratab A900 has a 9 inch screen and is powered by an ARmv7 Cortex A9 1.5GHz processor, Mali 400 graphics processor, multi format music playback and has 512MB RAM. It also has a 1.3MP front camera on the top right hand side, with support for Adobe Flash, for video calling and chatting, but the angle is not quite right, and you need to adjust the positioning of the tablet a little when you click. It's a functional camera, so don't expect any fireworks from it. The device also has a microSD slot for additional storage, so you can expand the storage up to 32 GB.
The design is not way too different from its elder sibling, the A100. The front is glossy black with a white back panel. It is slim and lightweight and this makes it highly portable. It feels good in your hands basically thanks to its rugged body.
Keeping to the minimalistic design requirements of a touchscreen, this tablet has no buttons on it. You can customize the appearance of the 3D home screen with bookmarks and pictures of your choice with the help of the Live Panel Menu, called the Ultra tab sense. Of course, several apps are already preloaded on the device.
The A 900 is powered by Android's ICS 4.0, and the interface is smooth and hassle free.
Display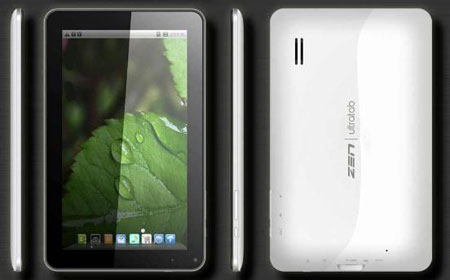 This device has a 9 inch capacitive Touchscreen with a resolution of 800 x 480 pixels, and videos and games look crystal clear on this tablet. However, because of the low resolution, if you view it real close to your eyes, you get a slightly grainy picture as you can see the pixels.
Internet experience
The Internet browsing experience on this mobile device is ho-hum. While pages load pretty quickly, navigation with the default browser is a bit of a bother. You need to try and install a different browser.
Touchscreen
The Touchscreen experience is similar to that of a usual 7 incher, and pretty average. You won't be mesmerized by the experience, anyhow. Typing is pretty smooth and decent.
Apps
Games and apps run pretty smoothly on this device. Angry Birds, Temple Run etc ran without much lag time or any other goof ups. Streaming of YouTube videos is also quite smooth and without glitches
Battery
The Ultratab A900 has a pretty normal battery backup of 3.5 – 4 hours on continuous video playing. That's not bad for a nine incher. But be prepared to recharge soon if you're connected to Wi-Fi.
The Yay! Factors:
The body is strong and will remain intact if you let it fall accidentally
Design has no surprises, but no disappointments either
Decent speed for the CPU at 1.5GHz
It is sleek and lightweight, and highly portable
The Oops! Factors:
SIM slot is missing
Performance degrades when you have several apps open at the same time
Some videos cannot fit correctly because of the large display, and it ends up looking a bit skewed
Comments
comments