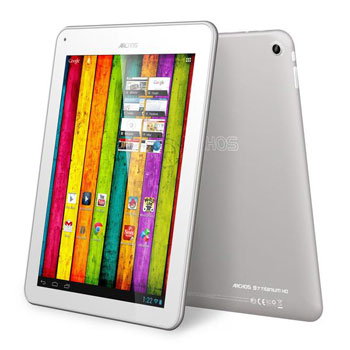 Everybody's excitedly gearing up for the imminent New Year so it's understandable if technology firms seek to cash in on the fervor. And Archos, recognized frontrunners in the electronics domain, are the latest to jump in the fray with the introduction of their new Archos 97 Titanium HD Android tablet.
Take a look below to see if this recently announced device indeed lifts holiday spirits further:
Important Attributes
9.7-inch IPS display, top resolution of 2048 by 1536 pixels
Android Jelly Bean (4.1) interface
1.6 GHz dual-core (A9) core processor, 1GB RAM
Quad-core Mali 400 graphics processor
8GB internal memory, extendable up to 64GB
5-megapixel (rear) and 2-megapixel (front-facing) cameras
High-definition (HD) video playing function
Looks and Build
Judging by the advertised material, the Titanium HD appears to be a decently designed tablet sporting a polished whitish silver body. The front portion presents a neat look with the brilliant screen dominating the proceedings while the back portion too is minimalist housing primarily the rear camera and two external grille speakers. Archos have provided a fair selection of physical mechanisms and functions consisting of a micro SD slot, a micro USB (2.0) port, a microphone, and a front-facing 2-megapixel web camera for video calling.
The tablet's known physical dimensions comprise a 9.4 by 7.2 by 0.35-inch frame and 640-gram weight that ought to render it portable and convenient to carry and operate.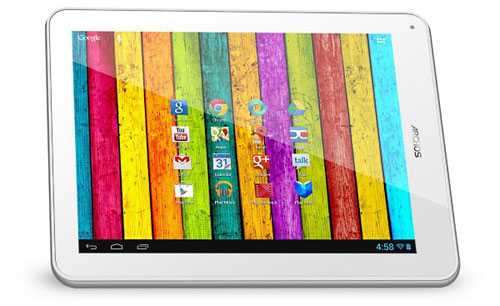 Screen
The Titanium HD's display is its forte – a 9.7-inch IPS screen touting an iPad-rivaling top resolution of 2048 by 1536 pixels. Without a doubt, the reproduction is bound to be superbly lucid outputting bright colors, enviable contrasts, and acute details. Moreover, the display is armed with 10-mode capacitive multi-touch functionalities that should make touch operations exceedingly smooth.
Internal Facets
The Titanium HD has been outfitted with a reasonably capable 1.6 GHz dual-core (A9) ARM central processor, a quad-core Mali 400 (mp4) graphics processor, a 1GB of RAM. While these facets may fall short of competing tablets, they ought to generate sufficient speed and multitasking abilities.
Android's Jelly Bean (4.1) interface is on board; the operating system has been well-received largely owing to its integration with Google's arsenal of online resources and apps.
As mentioned earlier, the tablet carries a micro SD slot facilitating a 64GB memory expansion besides the entrenched device memory of 8GB.
The Titanium HD embeds a Lithium Polymer battery whose capacity is not yet known.
The tablet will also come with inbuilt Wi-Fi and a G-sensor to aid connectivity and performance.
Rear Camera and Multimedia
The Titanium HD is equipped with a 5-megapixel rear camera with an autofocus function, which is on par with similar specifications on competing devices. Incidentally, images can be rendered in JPEG, GIF, PNG and BMP formats.
Archos have armed the tablet with an effective HD video player that supports both H.264 and MPEG-4 codecs and can output 30-frame-per-second clips bearing 1080 pixels. In addition, a variety of video file formats may be rendered on the tablet.
The ingrained music player also supports a wide array of file formats such as MP3, WAV, AAC, AAC3, FLAC, and OGG Vorbis.
Verdict
Although the Titanium HD's price and retail date are unknown, general users would favor the tablet especially given its terrific display.
Comments
comments